Are you looking for an experienced personal injury lawyer to win your case in court?
Here at Burg and Brock, Inc., we have been winning cases for our clients for over 21 years, and have multiple decades worth of combined experience.
A good personal injury lawyer can present a captivating case to the court in order to secure the desired settlement or verdict amount, and that is our specialty. Call us today for a free consultation, and find out for yourself why we're regarded as a distinguished personal injury law firm in Los Angeles.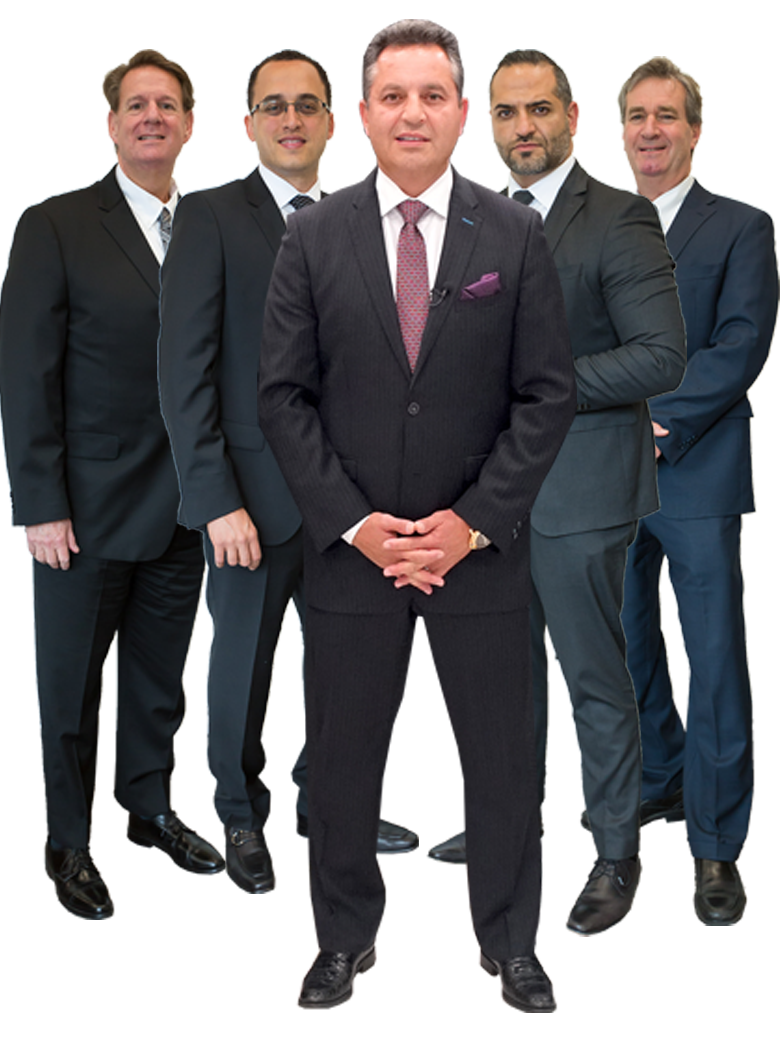 Experience & Result
Case#
Settlement
Lawsuit Description
6128
$4,776,404.81
Pedestrian v. Auto
7581
$4,500,000.00
Truck v. Auto
4669
$1,550,000.00
Auto v. auto (rear end)
3838
$1,500,000.00
Pedestrian v. Bus (G.C.)
1433
$1,250,000.00
Auto v. Auto ( Head Injury)
2996
$1,100,000.00
Premises (slip and fall)
2177
$1,000,000.00
Pedestrian v. auto
Shomer
$1,000,000.00
Premises Liability ( Wrongful Death)
3225
$900,000.00
Premises (Slip and fall)
1102
$625,000.00
Pedestrian v. auto
2694
$625,000.00
Premises (pole struck client)
4560
$600,000.00
Auto v. Auto (rear end)
6472
$525,000.00
Auto v. Auto (rear end)
4510
$500,000.00
Auto v. Auto (rear end)
5396
$500,000.00
Slip and Fall
8194
$500,000.00
Slip and Fall
4396
$500,000.00
Pedestrian v. auto
3404
$500,000.00
Auto v. auto (passenger)
3081
$450,000.00
Premises (negligent supervision)
5115
$424,728.32
Passenger v. MTA
7292
$375,000.00
Pedestrian v. Auto
Mehrara v. Chen
$360,000.00
Auto v. Auto (Leg Injuries)
6715
$350,000.00
Slip and Fall
7294
$350,000.00
Slip and Fall
4115
$350,000.00
Auto v. auto (multiple rear end)
3071
$325,000.00
Auto v. auto
6350
$300,000.00
Auto v. Auto (rear end)
6622
$300,000.00
Slip abd Fall
8213
$300,000.00
Auto v. Auto (rear end)
3681
$300,000.00
Premises (Slip and fall)
3575
$300,000.00
Premises (trip and fall)
8845
$280,000.00
Auto v. Auto
6362
$265,000.00
Auto v. Auto
5854
$261,000.00
Slip abd Fall
6229
$255,000.00
Auto v. Auto (rear end)
6575
$250,000.00
Auto v. Auto
7196
$250,000.00
Auto v. Motorcycle
7497
$250,000.00
Auto v. Bike
7498
$250,000.00
Auto v. Motorcycle
7589
$250,000.00
Pedestrian v. Auto
8169
$250,000.00
Pedestrian v. Auto
8214
$250,000.00
Auto v. Auto (rear end)
8305
$250,000.00
Motorcycle v. Auto
8459
$250,000.00
Pedestrian v. Auto
9084
$250,000.00
Auto v. Auto (rear end)
9171
$250,000.00
Auto v. Auto
9341
$250,000.00
Auto v. Auto
1477-2
$250,000.00
Pedestrian v. auto
Perez v. Metro
$250,000.00
Passenger v. MTA
7756
$235,000.00
Auto v. Auto (rear end)
1528
$235,000.00
Auto v. auto (Passenger in cab)
1528
$235,000.00
Auto v. auto (Passenger in cab)
6960
$220,000.00
Slip and Fall
3555
$207,500.00
Premises (Fell in hole)
6452
$200,000.00
Pedestrian v. Bus
6331
$200,000.00
Auto v. Auto (rear end)
6686
$200,000.00
Pedestrian v. Auto
7563-3
$200,000.00
Auto v. Auto
8250
$200,000.00
Auto v. Auto (rear end)
4233
$200,000.00
Auto v. auto (lane change)
8458
$185,496.06
Auto v. Motorcycle
1686
$175,000.00
Premises (Box hit client)
7342
$172,143.18
Auto v. Auto (rear end)
2267
$164,455.75
Auto v. auto (roll over)
3247
$162,758.21
Pedestrian v. auto
3603
$160,000.00
Dog attack
8627
$155,000.00
Pedestrian v. Auto
8677
$154,500.47
Wrongful Death
4577
$150,000.00
Auto v. auto (rear end)
3020
$150,000.00
Auto v. auto (passenger, left turn)
1804
$137,500.00
Pedestrian v. auto
1955
$130,000.00
Auto v. auto (t-bone)
3899
$125,000.00
Auto v. auto
3001
$125,000.00
Auto v. auto (left turn)
3719
$125,000.00
Pedestrian v. auto
3719-2
$125,000.00
Pedestrian v. auto
2594-2
$108,750.00
Auto v. auto (left turn)
4899
$100,000.00
Premises (slip and fall)
2509
$100,000.00
Pedestrian v. auto (wrongful death)
3892
$100,000.00
Dog Attack
4421
$100,000.00
Pedestrian v. Fork Lift
4134
$100,000.00
Auto v. auto
4820
$100,000.00
Pedestrian / Auto
4149
$100,000.00
Auto v. auto (traffic light dispute)
2458
$100,000.00
Auto v. auto (rear end)
2359
$100,000.00
Pedestrian v. auto
3013
$100,000.00
Pedestrian v. auto
1409
$100,000.00
Auto v. auto (hit & run)
2993
$100,000.00
Pedestrian v. auto
2801-2
$100,000.00
Auto v. auto (intersection GC)
2857
$100,000.00
Pedestrian v. auto
2225
$100,000.00
Auto v. auto (rear end)
2607
$100,000.00
Pedestrian v. auto
1976
$100,000.00
Auto v. auto (D.U.I.)
1961
$100,000.00
Auto v. auto (rear end)
2219
$100,000.00
Pedestrian v. auto
2617
$100,000.00
Pedestrian v. auto
1619
$100,000.00
Auto v. auto (left turn)
1533
$100,000.00
Auto v. auto ( Lane change)
2102
$100,000.00
Auto v. auto (rear end)
1640
$100,000.00
Auto v. auto (rear end, spin out of control)
2084-2
$100,000.00
Auto v. auto (rear end)
1809
$100,000.00
Auto v. auto
1336
$100,000.00
Auto v. auto (intersection light)
4806
$100,000.00
Auto v. auto (car spin)
3864
$100,000.00
Auto v. auto (multiple rear end)
3263
$100,000.00
Auto v. auto
4581
$100,000.00
Auto v. auto (intersection left turn)
4272
$100,000.00
Auto v. auto (Truck rear end)
4319
$100,000.00
Pedestrian v. auto
4410
$100,000.00
Auto v. auto (rear end)
3035
$100,000.00
Pedestrian v. auto (hit and run)
2721
$100,000.00
Dog attack
2845
$100,000.00
Auto v. auto (multiple rear end)
3551
$100,000.00
Auto v. auto (lane change)
4039
$100,000.00
Pedestrian v. auto
2779
$100,000.00
Auto v. auto (left turn)
3600
$100,000.00
Auto v. auto (intersection)
3731
$100,000.00
Auto v. auto (rear end)
3715
$100,000.00
Auto v. auto (multiple rear end)
3037
$100,000.00
Auto v. auto (lane change)
2994-3
$100,000.00
Auto v. auto (Red light)
1595
$100,000.00
Pedestrian v. auto
Rasoulian v. Jones
$100,000.00
Ahmadi v. Neal
$100,000.00
Pedestrian v. Auto
Burg v. Boylan
$100,000.00